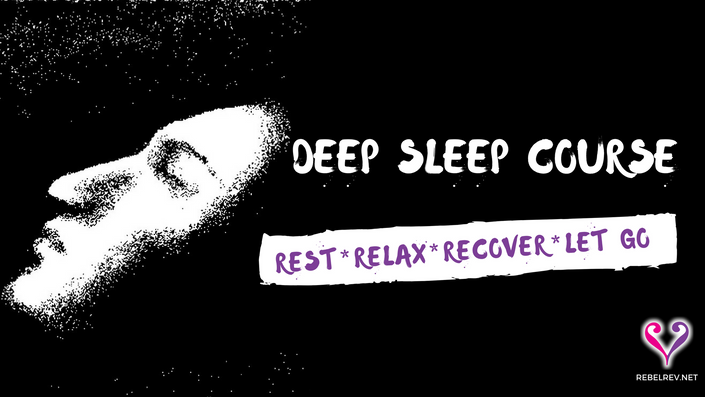 Creating space for deep restorative sleep through yoga, relaxation and meditation
Are you sleep deprived?
Make yourself comfortable because I want to take you on a journey into deep restful sleep.
This course is for you if you are suffering from poor quality sleep, insomnia or interrupted sleep patterns. Perhaps you are part of the 5am club and you don't want to be. There are so many thoughts whirring around your head that your sleep is neither peaceful or restful. You know you have to do something about it.

I've created this course because I know what it is to go without sleep for extended periods of time. It zaps your energy, makes you sluggish and unclear. It also depletes your immune system and your ability to care for your yourself and those you love. At it's worse, lack of sleep can result in physical disease, emotional, mental and spiritual breakdown. If you want to read an article that sets out the case for sleep beautifully click here
Many people are in this situation. But most people either never find relief or use medication to numb the symptoms but not get to the root cause.
In this course, we practice yoga, breath awareness, relaxation and meditation techniques to allow your body, heart and mind to rest, release and recover from lack of sleep. You may also want to get additional support to uncover, root out and let go of the issues that lie behind your lack of sleep through the additional spiritual counselling option.
I hope that you join me on this journey to deep restorative sleep. I know that it can change your life.
Rebel Rev Monica
Monica Douglas-Clark is a transformational trainer, inspirational speaker and soul abundance guide for secret rebels.
She's known as The Rebel Reverend because she helps professionals, business owners and entrepreneurs to release their creative and abundant soul rebel. This means that they break through the 'shoulds' and 'oughts' to access soulful passion, prosperity and peace in work, life, relationships and health.
She supports her clients to create space for abundance and creativity through courses, bespoke ceremony and retreats. She's been doing this work in various guises for the last 16 years as a business leader, wellness coach, yoga teacher trainer, ordained interfaith minister and spiritual counsellor.
Let's get on with it
Session 1 - Back to Basics - The Body and Relaxation
Available in days
days after you enroll
Session 2 - The Heart - Emotions and Sleep
Available in days
days after you enroll
Session 3 - The Mind
Available in days
days after you enroll
Frequently Asked Questions
When does the course start and finish?
The course starts on 6 November 2017 and content will be delivered weekly until the course completes! You will be given the opportunity to download the content so it is always available to you. It will then be a completely self-paced online course - you decide when you start and when you finish.
What if I am unhappy with the course?
We would never want you to be unhappy! If you are unsatisfied with your purchase, contact us in the first 30 days and we will give you a full refund.